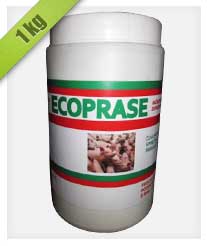 ORGANIC PRODUCT
■ Used for prevention of bacterial processes in pigs
■ For spraying piglets after farrowing sows
■ Preventing sores on the umbilical cord
■ Fast healing navel and preventing bacterial process
ECOPRASE is used in the course of parturition. Newborn piglets immediately are sprayed all over her body. This procedure will prevent infection, keeps the energy and vitality of piglets. Minerals contribute to faster healing of the umbilical cord at the same time carry out disinfection of the piglets. Using the product ECOPRASE reduces piglet mortality of the piglets. The required quantity of product ECOPRASE per piglet is 200-250 gr.
The composition, method of use and the declaration is on the label