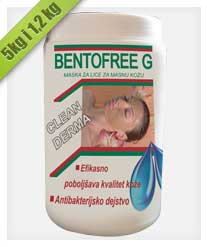 ORGANIC PRODUCT
■ Absorbs dirt and grease off your face
■ Efficiently remediates pimples, blackheads and acne
■ Absorbs salts and toxic substances from the skin
■ Improves skin immunity
■ Gives the skin elasticity and freshness
ZEOLITE BENTOFREE G is a face mask from natural minerals. Between mineral and the skin (salt, grease) ion-exchange is carried out between positive of negative ions. Mineral mask makes the mineral mud with essential oils. Bentonite and zeolite are prevalent minerals with many trace elements that skin needs (22 microelements). Greasy face has salt and toxins on it. More sessions will gradually, through ion-exchange feed the skin with micro-elements and it will increase the immunity of the skin and the skin will gradually be more elastic and fresh.
ZEOLITE BENTOFREE G, with its mineral composition corresponds to the famous mineral mud of the Battaglia spa in Italy. This means this mineral mud has great quality.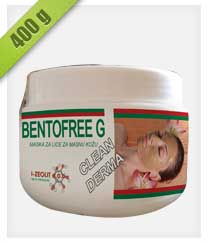 Today, many beauticians recommend masks from various organic materials and even fruits and vegetables. For a mask to be effective, causal link of the mask, skin on the face and physico-chemical or biochemical processes that occur during the therapy must be known,. What benefits can skin have from wearing masks of cucumbers, pumpkins and various other organic creations when they all have 85-92% water and only 10-15% of solid matter?
This does not mean that we discourage users to use masks vegetable masks, we only draw attention for people who want to seriously approach its face care and that can be done with the help of ZEOLITE BENTOFREE G mask.
The composition, method of use and the declaration is on the label.