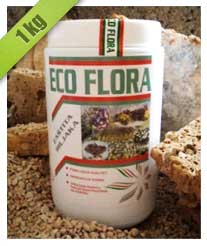 ORGANIC PRODUCT
■ For flower growing in home and garden
■ Helps faster growth and greater luxuriance of plants
■ For successful raising and care of your lawn
■ For growing flowers in glasshouses, greenhouses and outdoors
ZEOLITE ECOFLORA consists of many minerals, with zeolite minerals and diatomaceous earth as the most important ones.
ZEOLITE ECOFLORA has absorption power and retention of water up to 50%.
The composition, method of use and the declaration is on the label.