Natural minerals such are various bentonite clays (white and green), kaolin, zeolite and diatomaceous earth during last decade are components in the products of many world companies that produce skin care products. In many commercials companies emphasize the application of natural minerals to indicate that their products are without chemical additives, such as Nivea, Rexona, Loreal, etc. ... The range of minerals that are now used to protect the skin is increased so that beside bentonite clay, kaolin, zeolite, following application of the following has begun: sepiolite, diatomite, magnesite, etc...
The effect of natural mineral particles is manifested in different ways by virtue of their crystal web: light absorbing molecules of ammonium, salt, and toxins. Minerals take (absorb) from skin a variety of salts, fats and a wide range of toxins.
What is important in skin care? And what do natural minerals provide?
Minerals should have abrasive properties and to perform peeling of skin in order to remove dead cells
Minerals with high content of silicon and magnesium are particularly very efficient in abrasive function (zeolite, bentonite, kaolinite are highlighted)
Natural minerals prevent inflammation of the skin and, thanks to the mineral composition transferred to the skin have healing properties.
As natural antioxidants, they eliminate redness and rash.
The question is however, what is it good for your skin?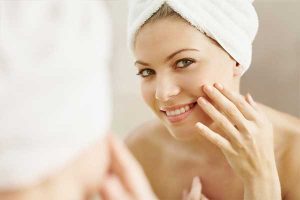 Each product on the skin has numerous various substances to soften the skin.
In research laboratories has been found that when there is no natural mineral that perform the function of protecting the skin, majority of chemical substances close the pores of the skin and then makes it softer. When the pores are closed exchange of vitamins and other ingredients is minimal in the absorption of salt, fat and toxins.
The skin products beside natural minerals should contain the hydroxyl acid having a minimum of Ph 4, hyaluronic acid, honey, glucol, certain mineral oil and preservative. Natural minerals have quick and effective action, and therefore is the best way for the user is to determine its effectiveness by the composition.
Substances that are harmful to your skin?
Alkohol
Lanolin (Scientists have found that it may contain pesticide. Specially, acetylated lanoline should not be used)
Certain mineral oils
Perfumed substance (a large number of aromatic substances cause dermatitis because many of them are toxic and photo-sensitized to the impact of the sun).